Album Review: HEROS & VILLIANS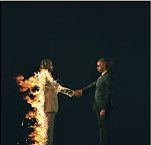 To continue the hero's saga, Metro Boomin came out with his latest album HEROS & VILLIANS in December 2022 with 15 proactive tracks including features with familiar names like Young Thug, 21 Savage, and Future to top it off. Having four tracks on the Billboards Top 100's, "Creepin" ft. The Weeknd and 21 Savage hold the highest position number 8. Each song has a sample from a song or show but was twisted in Metro Boomin's unique style. Not all but some tracks have transitioned from the first song to the next and this shows that Metro Boomin puts effort into his craft, leaving the listeners satisfied.   
One of my favorite tracks on this album is "Trance" ft. Travis Scott and Young Thug. The beat is laid back and is the perfect addition to any playlist that deals with chill hip-hop songs. Moving onto the next track, "Around Me" ft. Don Toliver, this track is also laid back with a small beat drop a minute into the song alongside a simple drumkit and a solid bassline that pulls everything together. The song ends with a speech voiced by Morgan Freeman. I really love the flow Young Thug decide to use at the end of his first verse on the song "Metro Spider" ft. Young Thug. I didn't like the flow he used in the first couple of seconds but the rest of the song is great. The intro of "I Can't Save You" (interlude) ft. Future and Don Toliver was a smooth transition from the last track. This track only really pulled the theme of heroes and villains together. It also shows that Metro Boomin really takes time on making his albums and not constantly pumping out new music. Switching up the tone, "Creepin" ft. The Weeknd and 21 savage is a sample from the song "I Don't Wanna Know"       
Overall this album is a 10/10 with no skips and all replays. I highly recommend this album to anyone who listens to hip-hop or anyone who heard about Metro Boomin but never took the time to listen to his albums. Most of the songs on the album are easy-going with a nice head bop. These songs are perfect for any playlist that has relaxed songs. You can stream this album on Apple Music, Spotify, and Youtube Music.