Empowerment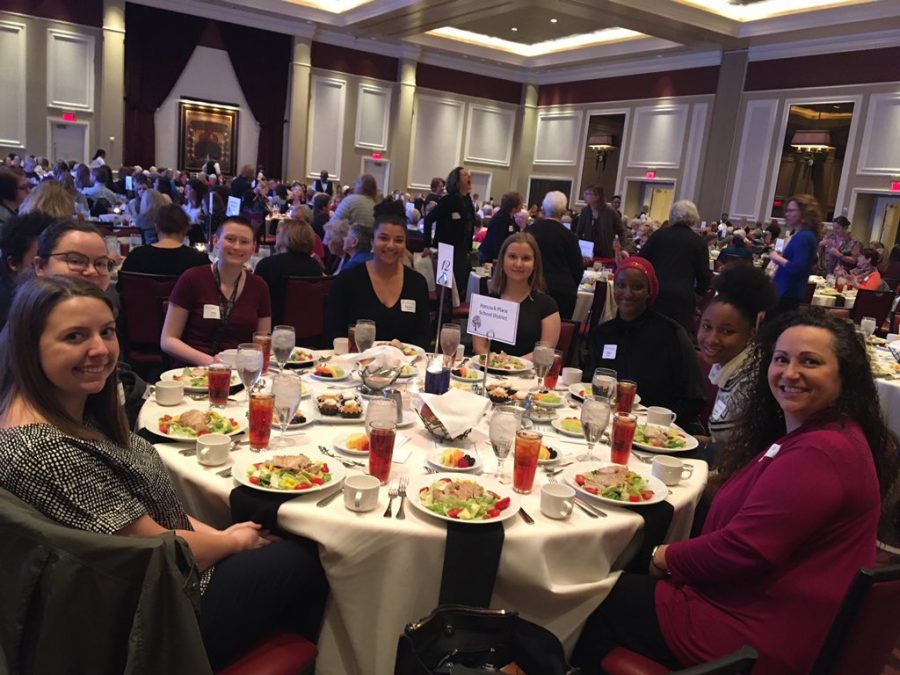 Amira Klokic, Senior Editor
March 15, 2020
The School Sisters of Notre Dame held their annual Women's Leadership Luncheon on Monday, March 9th. This is HHS's third year of going to their luncheon, and is due to the generous sponsorship of Dr. Kevin Carl, the superintendent of HPSD. 
This year, Principle Dr. Shelly Vogler and our guidance counselor, Ms. Ginger Steinhauff, chose specific girls from the senior class to join, as well as HHS's college and career advisor, Ms. Lauren Ficker. The luncheon had about 600 women in attendance, and for many, this was their first time at the luncheon. 
"I really enjoyed being able to gather with other women, and all the love and support in one room was an experience that I won't ever forget. One thing that I learned from that day was that no matter what, follow your dreams and strive for those goals that you have set for yourself, because at the end of the day that is what will keep you going and what will allow you to empower yourself when things get hard and obstacles are the size of mountains," said senior Clarissa Feeler. 
Each luncheon, there is a different topic that the speaker discusses, and this year they talked about diversity and inclusiveness. The speaker was Ann Cuiellete Marr, who is vice President of World Wide Technology. She discussed how her company, and those partnered with them, have many different guidelines on how to make sure that the companies are being as inclusive and aware of what each employee and customer needs, for the best service. 
She also discussed how diversity is something that World Wide Technology and partnered companies strive for, and look to empower everyone, especially women. One of the goals of the luncheon is to educate the women on how to encourage and empower one another, and reach for their goals. 
"I see the empowerment in each young lady that goes to the luncheon with me. It has a lasting impact when you are with nearly 600 powerful women and it opens your mind to your own potential and possibilities. It has a huge impact on me too, as I leave there wanting to do and become more," said Principle Dr. Shelly Vogler.
The luncheon discusses the difficulties that women have in society and in their jobs, and it brings awareness to being open-minded and respectful to everyone. The luncheon is an opportunity to gather women and talk on issues that affect them specifically, but are general topics. They are a way to educate and bring everyone together, especially the young women. It also brings out the inner drive in our senior girls that attend, and empowers them to not be held back by anything. 
Senior Naima Dawid said, "I learned through the [speech that] as a woman, we seem to think of our ambition as being selfish. I thought of how many times I'd stopped myself from doing things I've always wanted to do because I thought it was self centered, but that luncheon taught me that going after what you want isn't being selfish, it's being driven and determined."