Go Fish
Zoology class takes care of marine life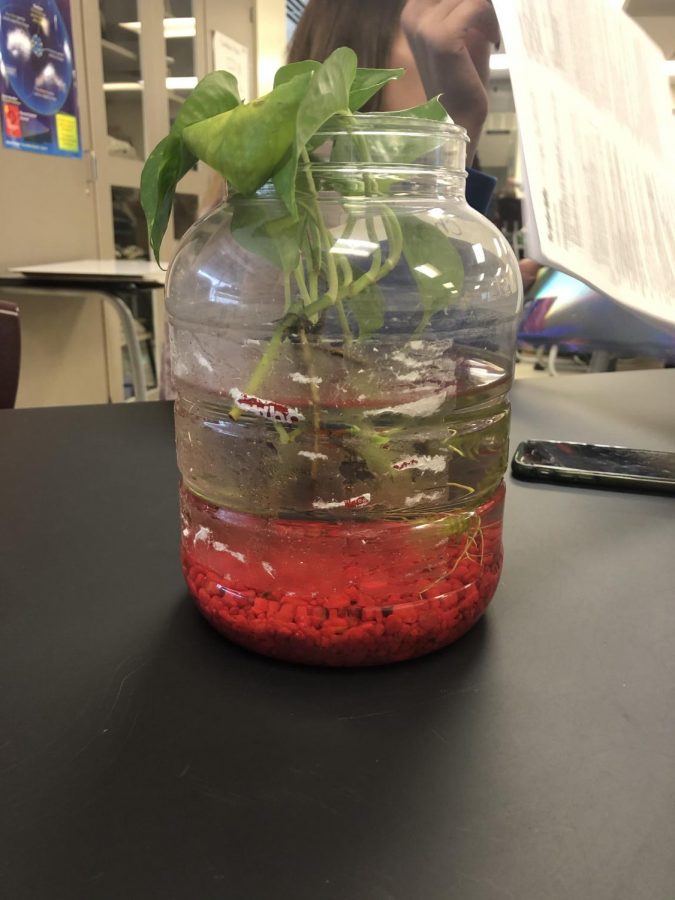 Students in Mrs. Ellen Schweiger's Zoology class have created a live fish tank for a semester project, in order to help them better learn about how to properly take care of a fish tank. When creating this fish tank, students filled up a jar of water, put in rocks and plants, put in the fish, and three times a week they make observations. 
"I hope that the students will learn about animal husbandry.  That is, they will learn how to research and learn about animals before they commit to taking care of them.  There is a lot to learn about before you commit to taking care of animals. You need to know how and what to feed them, what type of environment do they need, how often do you clean their environment and how do you clean their environment," stated Zoology teacher, Mrs. Schweiger. "I also want the students to learn about sustainability. Our world is running low on viable space to grow food and our earth is becoming polluted. It is important to know how to grow your own food in less space."
While observing the fish behaviors that are taking place, students learn about what they must do in order to take care of a fish. This can be an engaging activity for students, instead of just doing bookwork and tests. 
"I am super excited.  I am glad to have tried the small version in the classroom first.  I have learned so much about the fish, aquariums, the plants, water maintenance, and so much more.  It will be helpful information when we set up our large aquaponics systems. I hope that the students have also enjoyed learning about the fish, the plants, the chemical testing and how all of these chemicals are connected to keeping the fish and plants alive," Schweiger stated.
Not only is this an exciting opportunity for the teacher, but for the students as well to be able to perform this project. This project could inspire students taking the class to do bigger things with the new information, such as build their own aquarium. 
"I definitely think I'll have fish in the future and have an aquarium in my house. I love all animals and fish are very intriguing to me. It's always nice to have fish, " senior Gracie Hammon stated.
Not only could students taking the class use the information they learn to build their own aquarium, they could use this information to study other subjects like Marine Biology, Animal Science, and Veterinary Technology. 
"This does help me want to study Marine and Wildlife Biology after high school. I specifically wanted to take this class so I could learn about marine life and wildlife. So I might just want to study fish more, for sure," Hammon (12) stated. 
This is one of many projects that the student will engage in as the school year progresses. Being able to engage the students with a hands on simulation can be an effective way to educate all students about fish that benefits them and their future. It's a great oppor-tuna-ty!