Cold on the Outside, Warm on the Inside
The Seniors First Service Day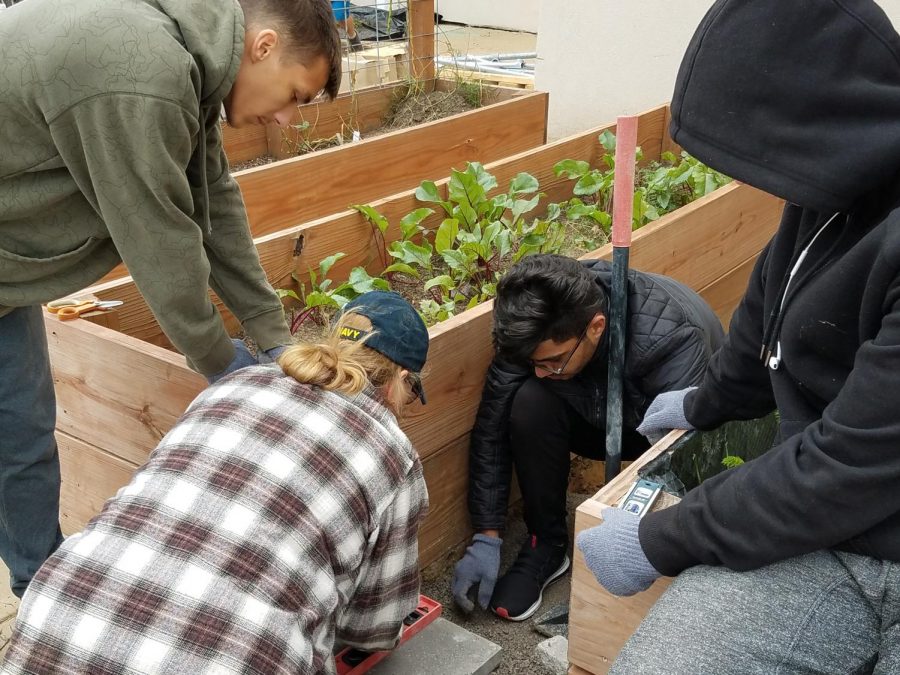 Amira Klokic, Senior Editor
October 24, 2019
On the cold Wednesday morning of October 16th, HHS seniors gathered at Heine Miene to start their Senior Service day. The seniors finished their annual fall senior service around 12:00 that morning after helping out our community. As the years have went on, we've collaborated with many different organizations.
"We started out just cleaning properties, alleys and along the sides of the roads. It has grown into partnering with parks and recreation, the Meals On Wheels program and the VA. Students are now building relationships with seniors and families in need in our community while beautifying their property," Mrs. Sherry Rischbieter, HPSD counselor said. 
Although there were less than 100 of them, they all put in the work needed to make the best of their service day. There were seven groups of them, and each group had a separate property to work on. After gathering together and discussing which properties they were going to, they all started off the day by working at their property and once some of the groups were finished, they joined other groups still working.
"Our seniors, this year, took great pride in their work and went above and beyond what was asked of them. In Jefferson Barracks Park, they cleaned up parts of the park that were not even on their list. When groups completed their lists for homeowners, they were asking if they could do more as they were identifying additional cleanup opportunities," Mrs. Rischbieter said.
The students were picking up trash, fixing up bushes, cleaning lawns, and many groups worked with Jefferson Barracks Park to get any yard waste to their center. This is the first senior service that this year's HHS seniors have done, and many have said that it was satisfying helping out the community.
"I feel like Senior service day was hard work, but it was fulfilling and gratifying work, that after we were done, it made me realize how great of an experience it was," Naima Dawid, a senior said. "It made me feel even more intuned with Lemay in general even though I don't live in Lemay. It made me feel like it was my community I was caring for."
Many students feel that it was a great way to build teamwork, and accomplish such great things in our community. HHS usually only has properties in the surrounding neighborhoods and parks, however this year, we coordinated our first year volunteering at the Veterans Hospital. 
"My group went to the VA hospital off of Koch Road. Our job was to help clear some ground for a communal garden. The garden is part of the therapies that some veterans go through to help with recovery from a multitude of different traumas," said Mrs. Erika Nelson. "My group was awesome! They got right to work and seemed to enjoy the physical aspect of the day. In the time we were there the group cleared overgrown areas between planting beds and started to lay pavers so there was a nice walkway between the planters. I was so so proud of my group for their efforts and manners and general work ethic."
As the years go by, each senior service day expands to different properties for our students to help at. This year brought us the VA Hospital in which the work done there will help the veterans in recovery, as well as homeless veterans. With this senior service done, there is another in the spring which will bring along more opportunities for our seniors to put in the hard work needed to help out our community.