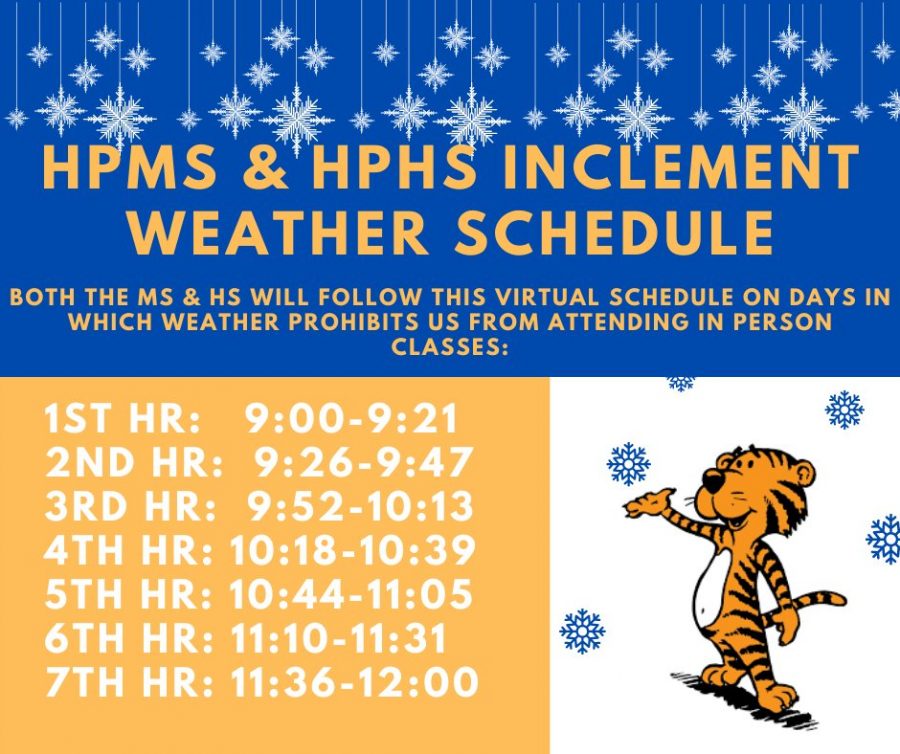 Thinking of a snow day, what do you see? Do you see yourself waking up early in the morning to play in the snow, or even relaxing all day watching movies? Your plans might need to change.
HHS and HMS have a new Inclement Weather schedule that eliminates the need to make up snow days. Students and staff will be expected to get on Zoom from 9:00 to 12:00 to attend each of their classes for a short period of time.  
"The expectation is it's a school day, so work is expected and teachers and students are expected to be live on their Zoom during the hour," HHS Principal Dr. Vogler said. "So it's a normal school day we are just modifying it a little bit." 
Whether or not this new Inclement Schedule lasts beyond this year is still to be determined.
"I think that the hope is this will be a great solution, but It will depend on how well it goes," Vogler said. "If we don't have as much engagement, we would have to review it and maybe change it up."
Vogler said that while students' absences on inclement weather days wouldn't count against them, they really should try to attend.
"Right now we are just looking at it as an opportunity. When it comes to people feeling like they are losing a day off, people are forgetting we have had a lot of time off. The important thing is our students need their education. We can't achieve that if we don't make up the time," said Vogler. 
The reason for the change in schedule is because of the opportunity it gives our students and staff to make up snow days when they happen instead of during the summer.
"There is that human side of me that loved having the snow days, but as a little girl, I hated having to have school in June and having to make up the snow days. I thought this way it was a nice compromise. There was only a momentary hesitation thinking about what we are giving up," said Vogler.
Some students seem to be in favor of this new schedule change.
"It makes sense that we do online and not have to make it up in the summer, but why not just do the whole day and not half," Freshman Renae Schroeder said. 
Schroeder believes that there are drawbacks to this decision as well. 
"Some cons are that we would have to be at home and might not know how to do any of it," Schroeder said
Vogler hopes that students do not see this as a punishment on a snow day.
 "It really is being considered as an opportunity to not take up time at the end of the year. I really just hope that people give it try, but if it doesn't work then back to the drawing board," said Vogler.